Who doesn't love a good outdoor soiree in the crisp fall months? In many destinations, we still face little critters in the fall like mosquitoes, "no-see-ums" (sandflies), and gnats. There are a few simple ways your DMC can help you reduce or eliminate the chances your guests or your food and beverage are affected.
1. Fans and Portable Air Conditioners
Outdoor portable air conditioners and fans can easily be placed around the perimeter of your event and will serve a dual purpose. Not only will the help regulate the heat in warmer destinations, but will assist in moving small bugs out of the area your event is being held. We recommend two large fans per 100 guests to shoo the pests away. This option is very budget conscious, and your guests will appreciate the results.
2. Tenting
Tenting is not necessarily always the most cost efficient, but if your budget allows, a wide variety of tents can be installed for an outdoor event that have pipe and drape or swagged sides to shield your guests and their food from bugs. Weather a color is chosen, clear or white, the style of the tent can be incorporated into your event theme and will add an exclusive feel.
3. Citronella Torches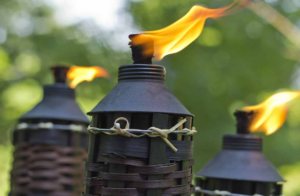 We recommend using one citronella torch every 25 feet around the perimeter of your event. One thing to keep in mind is that you must get venue approval for an open flame before deciding on using this pest control option. If your event is longer than two hours, we will make sure we have plenty of extra oil on hand for longer lasting pest protection.
4. Personal Takeaways
Give each guest a gift they can use throughout their stay. Small amenity bags with SPF lip balm, sunscreen and bug spray can be given to each guest upon their arrival. They can use the insect repellent for the current event, but will also be very grateful to have it for the rest of their trip! The more guests that apply the repellent, the less likely critters are to join your event.